The JuggMaster

Private Reserve Vol 10
Maria Moore
Al — hold the back page! We've just received one more DVD which must be included in the April AoV. From The JuggMaster, we are proud to unwrap the fabulous Maria Moore.
This is JuggMaster's Private Reserve Vol 10 — Maria Moore. He thought so much of this model that Volume 10 is being released before Volumes 8 & 9. Let's check it out.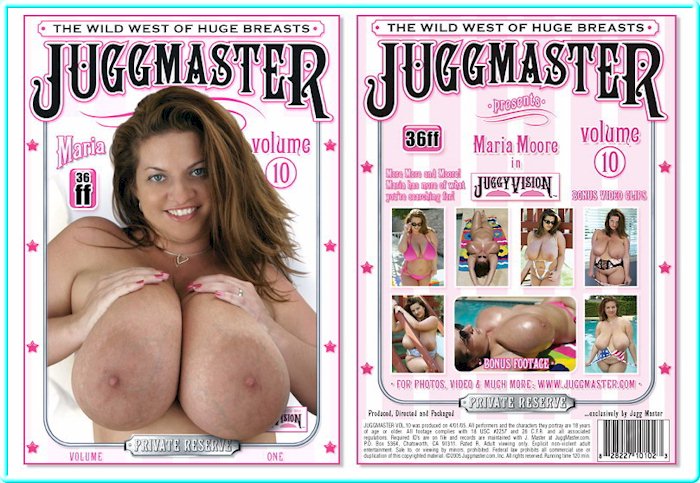 Maria could be described as statuesque or voluptuous and those words would fall just a little short of hitting the mark. She is more than just statuesque or voluptuous. I'm not sure of what the term might be. Maybe it will come to me after I discuss Miss Moore a little more.
JuggMaster brings the lady and her lush body onscreen in eight separate scenes that run for nearly 90 minutes. Then there's more than 17 minutes of bonus footage which is a preview of the Maria Moore Vol 2 DVD, a future release. So all told you are looking at busty Maria for almost two hours. And what a treat it is.
The DVD opens with Maria posing in a bra and panties out in the JuggMaster's back yard. She's unhurried, languid in her movements. In this scene you can hear overhead airplanes, children at play, and a talky collection of birds. While none of these make an appearance on screen, I still thought of Hitchcock's The Birds.
| | |
| --- | --- |
| In the second scene, we are treated to a JuggMaster signature scene. His camera is placed in front of Maria. She reaches with one hand to hold on to a railing while leaning far over the camera which is angled upward. With her other hand, she tugs her bra up causing her boobs to be released. They tremble and wobble as they dangle free right before our eyes. Ah, the grandeur of gravity! | |
In scenes three and four, Maria utilizes a pair of sectional sofas to pose on. One is a micro-suede fabric and the other is a herringbone tweed weave. You won't notice the furnishings — your attention will be elsewhere — but I've recently been through the trauma of buying a sofa....

Maria is clad in a blue workout outfit and a white bra and panties set. You love it when you hear the JuggMaster's whispered instruction for Maria to sit up and lean forward to show off her deep and expansive all-bare cleavage.
Scene Five is out by the pool. Check out Maria in the white JuggMaster tank top. Quickly Maria sheds the tank top and struggles mightily to fit her huge boobies into a bikini top.

Watch as the camera is positioned behind Maria's head as she lays on the diving board. Our view is right into her cleavage as she lifts those big, big tits up. In the sixth scene Maria puts on another bikini for us.
Scene seven is when Maria's monster tits get oiled and lathered. Maria wears a black zippered one piece suit and you won't believe the epic battle to get the zipper zipped all the way up. The closing scene is another of the JuggMaster signatures, Passing the Bar! Marie lets her puppies dangle over the fence. Woo woo!

This is a stupendously endowed model on screen for nearly two hours. You will not find any of the too rapid cuts and camera movements that I've complained about elsewhere. No, this is all tits, all the time.

The beautiful color, slow pacing, and big breasts on view throughout make this just a great DVD. It is available only from The JuggMaster. I don't have to take away any points at all; this video garners a five point zero score. Well done!
The JuggMaster

Private Reserve Vol 10 — Maria Moore

5.00
out of 5

That's a Wrap

Back to Introduction