The JuggMaster Private Reserve

Luscious Lana
That was then, and this is now. Arriving from California and from the prolific producer known worldwide as the JuggMaster, we are happy to have a look at a young lady called Luscious Lana. This is no Asian cutie; no, this is a very B-I-G W-O-M-A-N!!!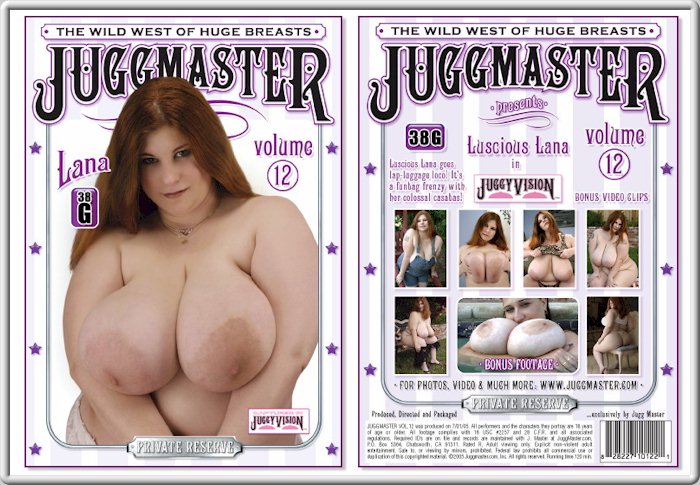 Wouldn't you love to see a woman, described on the DVD Box as:
Luscious Lana goes lap luggage loco.
It's fun bag frenzy with her colossal casabas!!
It's a sure thing that enjoying a 'fun-bag frenzy' is something that we all dream about. You can find it in this Vol 12 of the JuggMaster Private Reserve Series. This DVD follows the tried and true script employed in all of the Private Reserve volumes. It is a terrific formula and works so very well; after all, we've reviewed virtually the whole line, and always have awarded high scores.
| | |
| --- | --- |
| As Lana walks into the opening scene, immediately we can see that she has a seriously large pair of tits. Billed as a 38G, Lana definitely looms large. Yeah, throw away your tape measures. This gal is off the charts. She's a red-head, and she's wearing dungaree jeans and a white top. She's big and round all over. | |
Not too many moments go by, which are spent watching LL do some stretching which makes her big torpedoes thrust mightily at us. A few tugs and she has pulled that white top over her head. Her tits are huge, low slung danglers.
When she leans forward and sets those huge whoppers into motion, the JuggMaster perfectly times it; and we watch those massive beauties swing and sway deliciously in perfect crystal clear slow motion. Many models haven't mastered this bit of a fetishist's delight. They have too much motion of the waist or the shoulders. But if she does it right, these are sublime moments. Luscious Lana does it so right, it's downright mesmerizing.
| | |
| --- | --- |
| | When Lana takes her shorts off, we now have the complete package completely bare except for a ring, a couple of ornaments on chains around her neck, a hefty tattoo on each shoulder, plus a pair of sunglasses. Time to apply some body lotion, and this allows us to see that Lana's tits dangle to the level of her belly button. Hold your own hands down at that level by your navel and you will have a really true sense of just how big her tits are. |
When she leans forward while sitting on the chaise longue, you will truly understand the term lap luggage! After the body lotion, Lana is ready for some baby oil. Again we get the perfect view as she leans forward and the camera is positioned just right to capture the magnificent size of her boobs.


We are about a half hour into the video at this point when Lana comes on screen wearing a pair of bib overalls with nothing underneath. The straps are undone. Lisa sucks on her own nipples. More dangling followed by even more dangling with just enough motion to make a part of you ache.
| | |
| --- | --- |
| | The next scene finds Lana indoors on the JuggMaster's sectional sofa. Lana is still naked and has been given some rope to play with, as in tie the rope around her boobs. Lana will require a lot of rope, and it goes without saying that the JuggMaster does have a sufficiently lengthy piece of rope on hand. |
Back to the pool: we watch as the nude Lana climbs into a one-piece bathing suit. She spends some time getting her tits to settle just right within the confines of the suit's top. Once she's on the water, the JuggMaster's right there as well ... shallow end of course. But when she hauls those whoppers out of the suit, you will have a fun way to learn about buoyancy.
| | |
| --- | --- |
| Watching Lana hoist those big heavy breasts out of the pool and let them rest on the pool apron is a sight to behold. Take note of the up close eye-view of Lana squeezing her tremendous tits together only if you want a thrilling view that will be memorable. This marks the end of the chapters. | |
In the bonus chapters, Lana appears in a white zippered garment which isn't up to the task. Quickly she unzips and we are again treated to an extended look at those swinging udders. There's a preview of the next JuggMaster release: Missy, who sports a extraordinarily huge set measured at 36J. We expect that she will be massively popular with an endowment like that. We'll have Missy on our pages for you soon.
| | |
| --- | --- |
| | Summary: no new ground broken by JuggMaster with this edition featuring Luscious Lana. But as the adage goes, if it ain't broke, don't fix it. So the JuggMaster is going to pull down another high score, this time a four two five. Lana is a little large for my taste, but this DVD was executed flawlessly. If you really love 'em large, then this must be the next girl you add to your DVD collection. |
The JuggMaster Private Reserve Volume 12

Luscious Lana

4.25
out of 5

That's a Wrap!

Back to Introduction