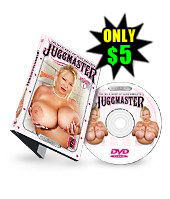 Click to see cover
Special DVD
only features!
JuggMaster Private Reserve
DVD Volume 1

Samantha 38G in crystal clear JuggyVision™ on DVD!
You'd have to be lookin' out Juggy's window
to get a better picture than this!
DVD includes 2 previously unreleased "bonus" scenes, Volume 2 preview scene with Chaka,
and hi-res photo gallery!
You won't see Samantha lookin' any
more inviting than this!

Approximate Running Time: 60 minutes
guest price $5.00 - LIMITED TIME ONLY!