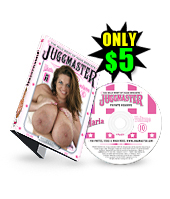 Click to see cover
Preview 1 sm
Preview 2 sm
Special DVD
only features!

All orders, foreign and
domestic, are shipped
within 7-10 business days
via U.S. Air Mail.
JuggMaster Private Reserve
DVD Volume 10
Maria Moore in crystal clear JuggyVision™ on DVD!
There are many words that can be used to describe
Maria but the obvious one is MORE. More of everything
that you love in a beautiful, buxom woman. Maria has it all!
Proportionately massive breasts that are round, solid and capped
by huge areola, a bombastic rear end and a simply stunning
body crowned by a gorgeous face. Another word I'd use
to describe Maria is "legend". This is one luscious little
Lady that has already carved her niche into the Heavy
Duty Hooter Hall of Fame and this is one DVD that
is destined to become a cult cleavage classic!
You'll witness Maria strappin' her hot pink bikini
around those gargantuan globes only to unleash them
once again to oil those babies while she soaks up
the California sunshine with her super-sized solar panels.
Also included is a scene from our second shoot in which
Maria oils up her even larger breasts before dippin' her duggs
in the refreshing pool. You won't believe your peepers when
she pops her pontoons into a one-piece bathing suit that
can barely contain her now 36G-Cup coconuts!
Catch Maria in all the cleavage classics... Passing the Bar,
Tale of the Tape, Hog-Tied Hooters and much more!
Also included on this already overloaded DVD is a
20 minute preview of Maria's up and coming second release
which showcases her in all her glory as a G-Cupper.
Could things get any better? YES! They can and they do!
This DVD contains the first video footage available anywhere
of Amazon and her 46I-Cup mamazons. You've never seen
juggs of this mamnitude and the only place you'll see them is
on this priceless preview! Twenty minutes of Amazon included
in two hours of titillating ta-tas... on one classic DVD!
Approximate Running Time: 120 Minutes

guest price $5.00 - LIMITED TIME ONLY!
Credit Card via Paypal or use your Paypal account balance.




For all Credit Card orders not in the United
States, you must use the International Orders link.