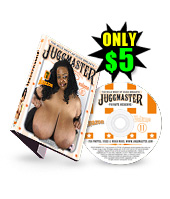 Click to see cover
Preview 1 sm
Preview 2 sm
Special DVD
only features!

All orders, foreign and
domestic, are shipped
within 7-10 business days
via U.S. Air Mail.
JuggMaster Private Reserve
DVD Volume 11

Amazon in crystal clear JuggyVision™ on DVD!
Listen closely as the sounds of mammary mayhem reach your ears.
Birds flock and fleet in fear. Wildlife rushes to safer ground and the water
wavers as the waistline wobblers abound. Trees and foliage rustle violently as
the Queen of the Jungle of Juggs rises from the forest of phenomenal fun-bags.
Amazon and her mighty mamazons are now unleashed! This is one stupendous,
super-sized Lady with legendary lap-luggage like you've never seen! When Amazon
unleashes her massive mastodons into the wild you'd better bring your elephant
gun because it's going to take more than a pee shooter to tame these ta-tas!
This is the one and only place you'll find Amazon on video and you can bet
yer Buffalo balls you'll be blown away by the sheer size and mamnitude of her
behemoth breasts. Watch her attempt to hog-tie her humongous hooters with a 50 foot
rope only to come up about 25 feet short! Witness her watermelons floating freely
as if they were oceanic orbs tossing about in a sea of saggers. She's big, she's bad,
she's bombastically boobiferous... she's Amazon, Queen of Colossal Cleavage!
In addition to this already packed video is a preview of Volume 12
featuring exclusive legendary Juggy Lana and her incredible 38G
bombers capped with enormous aureola. Her breasts are what boob-lover's
dreams are made of and this is your first chance to catch a glimpse of this
gorgeous Lady. To top this cult cleavage classic off is the FIRST-EVER
video footage released of the JuggMistress sans lactation. You wanted it
and she's going to give it to you... all 38J-Cup inches baby! Watch her
caress oil into these proportionately monstrous mams poolside before
letting them float aimlessly in the crystal clear water. Too Much!
Is there such a thing as too much when it comes to big,
swollen, beautiful breasts? NEVER!
Approximate Running Time: 90 Minutes

guest price $5.00 - LIMITED TIME ONLY!
Credit Card via Paypal or use your Paypal account balance.




For all Credit Card orders not in the United
States, you must use the International Orders link.