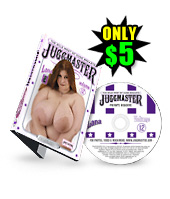 Click to see cover
Preview 1 sm
Preview 2 sm
Special DVD
only features!

All orders, foreign and
domestic, are shipped
within 7-10 business days
via U.S. Air Mail.
JuggMaster Private Reserve
DVD Volume 12
Luscious Lana in crystal clear JuggyVision™ on DVD!
There's no doubt that Lana has one of the most over-stuffed
sets of lap-luggage anywhere. These babies are BIG, capped
with enormous aureola and with just the right sag to the bag
Lana has found her way into the hearts of huge hooter lovers
worldwide and beyond! Lana has gigantic juggs and the
type of body that's reminiscent of legends in the past.
Welcome Lana to the Huge Hooter Hall of Fame and
pick up the only video footage available of her
anywhere on crystal clear DVD!
Bonus Footage includes an extra scene with
nurse Lana tending to her titanic ta tas as well as a
lengthy preview from Volume 13 featuring
the monstrously mammed Missy!
This DVD is as overstuffed as the blown-out
bras on these curvaceous cleavage queens!
Approximate Running Time: 120 Minutes

guest price $5.00 - LIMITED TIME ONLY!
Credit Card via Paypal or use your Paypal account balance.




For all Credit Card orders not in the United
States, you must use the International Orders link.