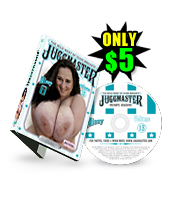 Click to see cover
Preview 1 sm

Special DVD
only features!

All orders, foreign and
domestic, are shipped
within 7-10 business days
via U.S. Air Mail.
JuggMaster Private Reserve
DVD Volume 13
Marvelous Missy in crystal clear JuggyVision™ on DVD!
If you were to analogize Missy's bombastic body to that of a classic
car she's the Cadillac of Cleavage and when the airbags deploy on
this Hooterrific Hot Bod you'd better be wearing your crash helmet!
I'm sure you've heard the word "tits" when it comes to a sweet
ride and it doesn't get any more "tits" than this baby! Missy has
souped up saggers with saucer-sized areola that'll cause you
to blow an O-Ring! And when she revs her raucous rack you
can bet she'll help you clean out the carbon from your pipes!
Blow out yer big block with the Hemi of Hooters
and pick up your copy of DVD Volume 13!
Bonus Footage includes a 15 minute preview of
titillating Tristal and her mamumental mams from Milan.
This European beauty has a gorgeous face, a stunning,
statuesque figure and the gazongas of a goddess.
Also included is an additional scene of luscious Lana
that didn't quite fit on volume 12. Watch as her waist-line
wobblers explode while doing the jaw-droppin' bra pop!
Approximate Running Time: 120 Minutes

guest price $5.00 - LIMITED TIME ONLY!
Credit Card via Paypal or use your Paypal account balance.




For all Credit Card orders not in the United
States, you must use the International Orders link.