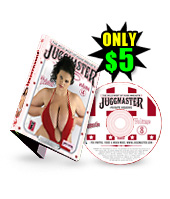 Click to see cover
Preview 1 sm
Preview 2 sm

Special DVD
only features!

All orders, foreign and
domestic, are shipped
within 7-10 business days
via U.S. Air Mail.
JuggMaster Private Reserve
DVD Volume 14
Titillating Tristal in crystal clear JuggyVision™ on DVD!
Tristal comes to us from Milan Italy and happens to be our
first International Juggy to be released in the Private Reserve
line. She possesses the statuesque figure of a roman goddess
yet sports the addition of two super-sized world-class wobblers.
You'll slap Johnny behind the ears when you see Tristal in
the stunning Red Dress as well as in the pool with some
of the absolute best fun-bag footage I've every filmed!
Tristal has a sex appeal and juggs unlike any other and
you'll witness it yourself on this classic DVD!

Bonus Footage includes an extra scene with curvaceous
Kharma manipulating her mams as well as a preview
of Private Reserve Volume 15 featuring the Canadian
born Kiki and her overblown, king-size casabas!
An international feast of fun-bags awaits you!

Approximate Running Time: 120 Minutes

guest price $5.00 - LIMITED TIME ONLY!
Credit Card via Paypal or use your Paypal account balance.




For all Credit Card orders not in the United
States, you must use the International Orders link.