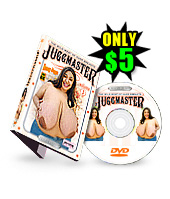 Click to see cover
Special DVD
only features!

Preview 1 sm md

All orders, foreign and
domestic, are shipped
within 7-10 business days
via U.S.Air Mail.
JuggMaster Private Reserve
DVD Volume 3

Honey Juggs in crystal clear JuggyVision™ on DVD!
Honey's Juggs O' Honey are possibly the largest
set of whoppers I've ever photographed!
Not only are Honey's endowments enormous,
(generously sloping down to her waistline),
but they are pendulously perky for their sheer
size and weight and capped with over-sized
areola and big, suckable nippity-doo-das!
Along with Honey you'll get bonus scenes which
include Honey and the generously juggified Jacqui
trying on bras, sizing each other up with the
Tale of the Tape, tasting each other's ta-ta's,
and staying in shape with Juggy Jacks™!
But wait! There's more! Bonus preview of
Private Reserve Volume 4 with Devilicious
Devin Taylor and her delectable E-Cup delights!
A genuine JuggMaster discovery and her
first video footage ever released!
Another JuggMaster Cleavage Classic!

Approximate Running Time: 80 minutes

guest price $5.00 - LIMITED TIME ONLY!

Credit Card via Paypal or use your Paypal account balance.




For all Credit Card orders not in the United
States, you must use the International Orders link.