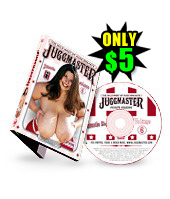 Click to see cover
Preview 1 sm md
Special DVD
only features!

All orders, foreign and
domestic, are shipped
within 7-10 business days via
U.S. Air Mail.
JuggMaster Private Reserve
DVD Volume 6
Samantha Slopes in crystal clear JuggyVision™ on DVD!
Warm your cockles, grab your poles and head out to
the Slopes to join Samantha in her quest to conquer
her mamnificent, monumental matterhorns!
These 40K - Cup mountains are beyond a K2
so you'd better bring your survival gear and a healthy
appetite because Sam is servin' up a meal, not a snack!
Volume 6 contains footage of Samantha enjoying her day
poolside at Juggy's and you can't find video of her
like this anywhere JuggHeads! Classic cleavage cuts!
Joining Samantha in a bonus preview from Nip to Nip Vol. 2
is delectably delicious Demi and her double D's.
This is the only place you'll see Demi's double D delights
and Samantha's huge juggs are the only place you'll see
Demi's lips! Demi told me she'd been dying to play
with Sam's wallopin' whoppers so Samantha gave Demi
the opportunity to go lap-luggage loco... and does she ever!
Plenty of measuring, mammifying, and ropin' as well as
some of the best lip-to-lap-luggage video you'll ever see!
Bonus scenes include extra footage of Samantha
as well as a lengthy preview of Private Reserve Volume 7
Double Feature starring Emage and Amber!

guest price $5.00 - LIMITED TIME ONLY!
Credit Card via Paypal or use your Paypal account balance.




For all Credit Card orders not in the United
States, you must use the International Orders link.