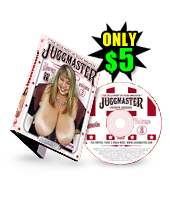 Click to see cover
Preview: sm

Special DVD
only features!

All orders, foreign and
domestic, are shipped
within 7-10 business days
via U.S.Air Mail.
JuggMaster Private Reserve
DVD Volume 8
Mercy and Samantha Kay in crystal clear JuggyVision&trade on DVD!
The third Double Feature in the Private Reserve line brings
together two legendary ladies with overdeveloped orbs of delight!
Mercy hath no mercy when she unleashes her 44FF-Cuppers from
her custom-made coconut constrainers. Mercy has never been
shy when it comes to whippin' out the big ones and she simply
can't keep her hands and lips off of them. Catch her ropin' 'em,
oiling 'em, changing bras, as well as a lengthy pool scene in which
she launches her titanic torpedos! Mercy is already legendary in the
world of whoppers and you can catch her in some of her finest
moments on this DVD! But wait... it doesn't end there!
The second half of this bra-buster bonanza stars Samantha Kay!
This country bumpkin and her swollen pumpkins are my pick for the
blue ribbon in the largest growth category at the JuggsVille State Fair!
Samantha is an extremely sexy, young woman with a mature yet
youthful body and a sultry set of super-saggers. You'll see them hangin'
and danglin' in every conceivable angle and position. And because the
scenes were filmed with a few years in between you'll see Sam and her
mams metamorphosize right before your very eyes. Simply awesome
footage of Sam swingin' her knee-slappers in slow-motion JuggyVision.
Watch her force-feed her funbags into her hungry mouth as she lets her
fingers do the shopping in the downstairs department. After frolicking in
the pool she gives her breasts the undivided attention they truly deserve.
I could go on and on about the classic footage on this DVD... and I will!
The bonus scene features Samantha Kay and she literally shows you the
ropes when it comes to the art of the hooter hog-tie. Sooooooweeeet!
Also included is a 20 minute preview of Private Reserve Volume 9.
A double feature starring juggalicious Jacqui and torrid Tori.
Running time approximately 160 minutes
guest price $5.00 - LIMITED TIME ONLY!
Credit Card via Paypal or use your Paypal account balance.




For all Credit Card orders not in the United
States, you must use the International Orders link.