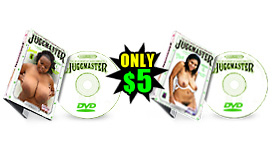 Preview
Check here to see if your player is
DVD-R compatible

Collectors:
The insert will be available in the
near future for download

All orders, foreign and
domestic, are shipped
within 7-10 business days
via U.S.Air Mail.
JuggMaster Private Reserve
DVD-R Volume 9
Torrid Tori and juggalicious Jacqui in crystal clear JuggyVision™ on DVD!
The fourth Double Feature in the Private Reserve line brings together
two luscious ladies with bombastic bods and contrasting cleavage!
The grass is greener on both sides with the slender body and sultry
sandbags of Tori on one disc and the bombastic bod and blown-out
bazoombas of Jacqui on the other! Each solo disc offers a bonanza
of classic big boob scenarios and together they present a satisfying
smorgasbord of saggers that's bound to please the palpitating
pallet of any serious cleavage connoisseur.
So... will Tori be the one that gets your beans in a bunch?
Or will Jacqui put the squeeze on your swollen satchel?
Can't decide which? Get both and save!
For a LIMITED TIME ONLY, order BOTH DVD-R's for $9.99 and save!!!
Credit Card via Paypal or use your Paypal account balance.


Only want only of the DVD-Rs? For a LIMITED TIME ONLY, order that model's release for $5.00 ea
Why DVD-R?
At JuggMaster.com we like to keep up with technological
advances and with the introduction of HD-DVD and
Blue Ray DVD we will no longer be mass producing video in
the traditional DVD Video format. Until we've converted
all video to an HD format we will be releasing future titles in
the DVD-R format. You will find absolutely no difference
in video quality and will continue to enjoy JuggMaster
titles in high-quality, crystal clear JuggyVision™!