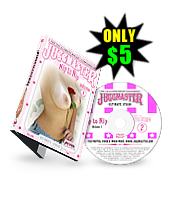 Click to see cover
Preview 1 sm md
Special DVD
only features!

All orders, foreign and
domestic, are shipped
within 7-10 business days
via U.S. Air Mail.
JuggMaster Ultimate Stash
DVD Volume 2 . Nip to Nip
What has 6 heads, 12 legs and more tits than a Dairy Farm?
That's right JuggHeads, this DVD! And what could be better
than two boobiferous chicks goin' Nip to Nip? Six boobiferous
chicks of course! Hold on to your hamhocks 'cause when you
hit the play button on this baby you can bet it'll put a cynch in
yer sack! Scene one features Denise Davies and Gwen Sanders
fondlin' each other's funbags before sizin' each other up in the
"Tale of the Tape™". This scene also includes footage of these
two cleavage queens lickin' each other's over-loaded lap-luggage
before attempting to "Pass the Bar™" in tandem. Too hot!
Scene two pairs up jiggly Jacqui with torrid Tori and her twin
torpedos. Jacqui's bodacious bod and blown-out bazoombas
are the "Order of the day" on Tori's mammary menu and this
hooteriffic hottie hungers for a meal, not a snack! Both of these
busty babes enjoy each other's boob buffets before chillin'
in and out of the refreshing pool. Simply a smorgasbord!
Scene three contains four Hall of Fame Hooters belonging
to proud owners Samantha G and Samantha Slopes and when
these pillowy, pool pontoons collide you'd think they hit an iceberg!
Plenty of funbag frolic including the "Samwich"!
Ultimate Stash Volume 2 also contains a preview of
Volume 6 in the Private Reserve series featuring Samantha Slopes
and her walloping waistline wobblers! This girl is not only
gorgeous but also possesses one of the largest, most beautiful
pair of juggs on the planet. Mucho mammary mayhem!
Thought we were finished? Yea... right!
Also included on this DVD is a preview of Ultimate Stash
Volume 3, The White Tapes 2 . "Mo' Milk", starring the
JuggMistress and her larger-than-ever, milk-laden mamba-jambas!
If you thought that her enormous juggs couldn't get any larger,
well think again friend because they went up another cup size,
(now a 38K), and they're overloaded with hooter horchata!
These babies are leakin' and squirtin' like a super-soaker
on a hot Summer day! Refresh yourself!

Approximate Running Time: 160 minutes
guest price $5.00 - LIMITED TIME ONLY!
Credit Card via Paypal or use your Paypal account balance.




For all Credit Card orders not in the United
States, you must use the International Orders link.