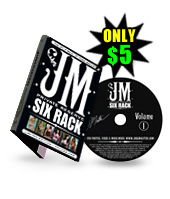 Click to see cover
Preview 1
Preview 2

Special DVD
only features!

All orders, foreign and
domestic, are shipped
within business 5-7 days
via U.S. Air Mail.
JM Private Reserve Six Rack DVD Volume 1
Six jiggly Juggies in crystal clear JuggyVision™ on DVD!
When yer thirstin' for a bra that's burstin' crack open a refreshing pair of cans!
Head to Juggy's General Store and pick up a JM Six Rack Volume 1!
When you're parched for pillowy pleasure pontoons a JM Six Rack
has just what it takes to satiate your search for super-sized slurpees
so slip on in to the Store and stock up on a sixer!
Featured flavors include:
Adara . 34F
JJ . 38KK
Sophia . 38F
Cre . 42F
Scarlett . 42F
Isis . 36F
Approximate Running Time: 195 Minutes
guest price $5.00 - LIMITED TIME ONLY!
Credit Card via Paypal or use your Paypal account balance.




For all Credit Card orders not in the United
States, you must use the International Orders link.