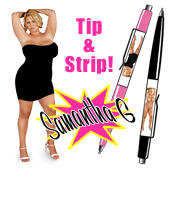 click for a detailed view

All orders, foreign and
domestic, are shipped
within 5-7 days via
U.S. Air Mail.
JuggMaster Nudie Pen 1
The Nudie Pen is back baby! Juggy style!
Yes indeed JuggHeads worldwide and beyond, the nudie pen, also known as
the Stripper Pen and Tip and Strip are back and the only difference between my
nudie pens and the pens of yore is that these pens feature your favorite Juggies!
That's right fellow funbag lovers and nudie pen collector's across the globe,
JuggMaster series of nudie pens are manufactured by the same company
in Denmark that's been making the infamous Tip and Strip pens since the
1950's! Nothing but the "Original" when it comes to a product bearing
the JuggMaster name and baring the beautiful BIG ones.
The "Original" Danish Collector's Nudie Pen
JuggMaster Nudie Number One
Samantha G

Price $7.95
includes shipping!!!!
International price $10.95
includes shipping!!!!
Credit Card via Paypal or use your Paypal account balance (please indicate desired color).