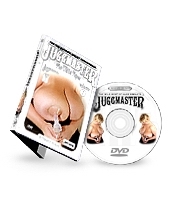 Click to see cover
Preview 1 sm md
Special DVD
only features!

All orders, foreign and
domestic, are shipped
within 7-10 business days
via U.S. Air Mail.
JuggMaster Ultimate Stash
DVD Volume 1

The JuggMistress in crystal clear JuggyVision™ on DVD!
The JuggMistress has proportionately massive breasts
and during the time that this exclusive video was filmed
they were at their absolute largest! The White Tapes is
something of a very special nature that I dug out of my
closet and was never meant to be polished nor perfect.
It's simply a documentation of the JuggMistress' absolutely
huge breasts during a period of lactation... and simply
a breast-lover's "Ultimate Stash". Her enormously-engorged,
milky monsters put the industrial-strength pump through the
ultimate workout, tugging her enlarged nips into the device
surrendering Mother Nature's finest for all to enjoy!
Also included on this classic release is a bonus clip of
the JuggMistress milkin' more from the big ones as well as
20 minutes of Alexandra and her super-soakin' six shooters!
This maiden manipulates milk from her mam-missiles like
a veteran! We were soaked and she had more to spare!
To top off this treasure is a bonus preview clip of
volume 2 in the Ultimate Stash series entitled "Nip to Nip".
Nip to Nip will feature 2 scenarios. The first segment is the
entire footage of Samantha 38G and Samantha Slopes frolicking
in the pool and enjoying each other's ample assets. Scene
two is the complete footage of Tori and Jacqui sizing each
other up and playing with each other's whoppers in and out
of the refreshing pool water. Astounding contrast between
the bodies of these two beautifully bodacious babes!
This DVD will go down in history, stash yours today!
Approximate Running Time: 70 minutes
guest price $12.95
Credit Card via Paypal or use your Paypal account balance.



For all Credit Card orders not in the United
States, you must use the International Orders link.